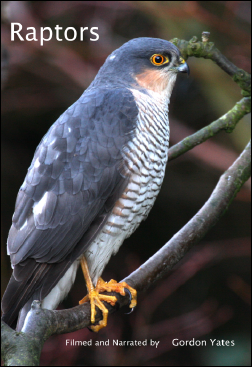 Years of filming and more than three hundred hours of editing have come to an end and the Raptors DVD is now complete. The DVD is £15 plus £1 postage. At the moment copies of the DVD are not available through my website but hopefully will be soon. You may obtain a copy by sending me a cheque, together with your name and address to my address:
3, Saxonholme Road, Castleton, Rochdale. OL11 2YA or telephoning me on 01706 631770.
A resume of the DVD is as follows:
'Raptors, the family of birds that thrill and excite when seen in the field and represent the greatest challenge to capture on film.
This DVD takes us on a journey from the Pennines to the Cairngorms, then on to South West Scotland and culminates on the beautiful island of Islay. During this journey we examine the intimate breeding cycles of all six species of British owl plus Golden Eagle, Osprey, Goshawk, Buzzard, Hen Harrier, Sparrowhawk, Kestrel, Merlin, Kite and Peregrine.
In all, sixteen species of Raptor, filmed in their breathtaking natural environment.'