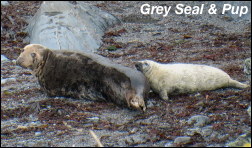 A last reminder of our week on Islay is this photo of the Grey Seal with its pup. It is only in the last two years that we have been able to find newly born seals on Islay as previously they have given birth on an island off shore.
Two mild days this week have produced the sightings of a Small Tortoiseshell butterfly in Rochdale on the 3rd and today the 6th a Speckled Wood over our back garden. Two very late records despite early morning frost.
On the 2nd November a Kingfisher was seen on Hopwood plus a very active Green Woodpecker. With the mild weather Foxgloves and Red Campion are still in flower
With a perfect Autumnal day on the 6th we drove around Bowland and the Hodder Valley. Fieldfares and Redwings are now becoming more numerous and a Kingfisher was watched fishing at Higher Hodder Bridge. Its colours looked even more impressive in the soft sunshine.