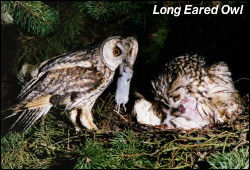 High pressure all week and I have been actively checking nest sites to the north of Rochdale in perfect conditions. A pair of Long Eared Owls is always good to see and the female must soon start incubating in an old crow's nest amongst the pines.
A search for Lesser Spotted Woodpeckers failed to produce anything other than a Brambling – my first of the Winter!
On the moors Red Grouse are very vocal with the calls of Curlew and Snipe very noticeable and impressive on the calm evenings that we have had this week.
Buzzards have been active on Hopwood and Long Tailed Tits nests are now up to six, with many others not yet found.
In the garden a female Sparrowhawk has been present most days but no kills have been seen so far – not that I would have wished the pair of Bullfinches or the Willow Tit, which are daily visitors, to have been taken!