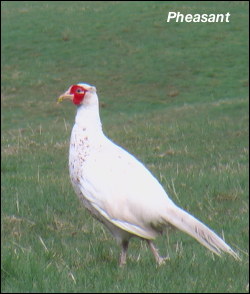 Whilst in the Ribble valley this week I saw two different white Pheasants and managed to obtain a quick shot of this one – the other was three miles away and a complete albino. Sadly the albino Carrion Crow that has lived by the M65 for more than ten years is missing this year and must have died. Like most albino birds it was always very wary and I never got the film I wanted of it.
On the eleventh in Bowland I saw my first Redstart of the year and on the twelfth on Hopwood both Blackcap and Whitethroat were singing and a Buzzard was present. The Buzzards have been in the area now for more than five years but I have yet to see a successful breeding.
In the hills I have now seen my tenth Long Eared Owl in less than two weeks which must be a record! The first female is now brooding young and hopefully this year most will have survived Easter. Ring Ouzel and Little Ringed Plover are back on their breeding sites with a pair of Nuthatches using an old Green Woodpecker hole in a valley one thousand foot above sea level, which must surely be a Pennine altitude record!