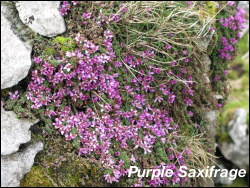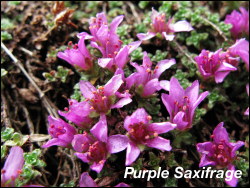 Three times in the last seven days I have walked to the top of one of the Yorkshire Dales three peaks to search for Purple Saxifrage, one of my favourite Arctic plants! This year's flowers have been exceptional and like everything else three weeks later than normal flowering. On the long walk to the top I saw my first Wheatears and Ring Ouzel of the season with nine Golden Plover on the top.
I continued my search for Woodcock in Bowland and actually flushed two birds together but still no nest. I did see my first Swallows of the year with Willow Warblers in full song nearby.
Today, tenth April, the temperature peaked at 20°C and as if by magic I saw a Small Tortoiseshell butterfly, six Peacocks and one Comma. It always amazes me how butterflies appear as soon as there is a significant rise in temperature.
It always depresses me when I see birds as roadside casualties. During the week I saw two dead Tawny Owls only ten feet apart on the M65 near Burnley. I can only surmise that these were two males chasing each other and hit some large vehicle. If this was the case then their respective partners will now fail as a result of this tragedy.
In the garden this week a male Goldcrest was in full song in the pine tree. Could it possibly stay to breed. I have had a request as to how do I attract so many birds to such a small garden. Without going into great detail I would say that you need plenty of feeders around the garden. There should be some good cover nearby for birds to resort to if any Sparrowhawks appear. In addition there should be no cats in the garden (ours is surrounded by a chicken wire fence!) Forty two years of feeding birds in the same garden also helps.