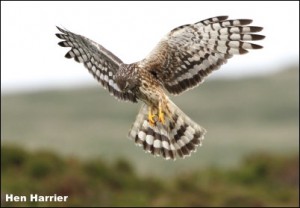 Islay is in the top three places in Britain to see breeding Hen Harriers. The display flight of the male is called skydancing and consists of undulating flights, rising and falling and is difficult to film as it usually performed some distance away. The female on the other hand is much more active around the nest and during our three weeks on Islay I acquired some action shots of what is most probably Britain's most threatened raptor. click here.
In the last week I have spent many hours in the hills looking for nesting birds. Kestrels, Kingfishers and many wading birds all seem to be doing well in the present settled weather so let's hope it continues. The woodlands are now full of fledged tits, especially Long Tailed Tits and Redpolls which are having a brilliant breeding season.
In the garden a pair of Bullfinches have brought all four of their young to feed. Reed Buntings are now only occasional visitors.