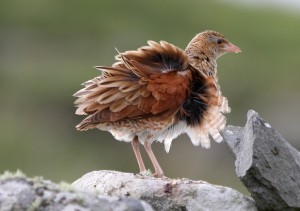 Last week's superb weather has had Corncrakes calling from all over the west side of Islay. In one evening alone I encountered eight different birds and whilst I did not see everyone of them some gave me great views. Best of all one climbed up a drystone wall and then stopped on top to preen – just unbelievable! Click here.
Early one morning when I was filming Black Guillemots I heard alarm calls from gulls and looking up an Osprey flew over my head and out to sea towards the rising sun.
Following on from the masses of Bluebells the island is now yellow with the best cover of Yellow Flag we have ever seen.