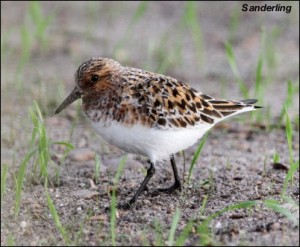 A week on Islay with fabulous weather and wildlife.
In a newly sown barley field, away from the shore, upto forty one Sanderling were finding an abundant supply of leatherjackets. Many of these birds were now acquiring their Summer plumage and within two days all had left for the long journey to Greenland.
Black Guillemots are delightful birds to encounter in Summer and one spectacular dawn I took some flight shots, against the light,as they enjoyed the sunrise.
This is our ninety ninth visit to Islay and the bluebells are the best we have ever seen. The  first Marsh Fritillary butterfly appeared on the 27th with no doubt many more to follow. Roe Deer are all over the island and we have also seen two Otters one fishing on a fresh water loch which is a first for us. Click here for this week's gallery