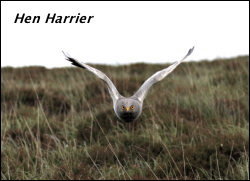 I couldn't resist including this last shot of a Hen Harrier from Islay. The eyes of this attacking male are the last thing that a poor Meadow Pipit will see before it is captured. What a way to go. I decided to avoid contact with his talons!
Locally this is now a quiet time from a filming point of view , after a very hectic breeding season. On the local Golf course whilst there are still Willow Warblers singing all the Whitethroats have now become silent. It would appear that they are not having second broods this year and I have read a recent article in one of the bird magazines that claims they are returning south earlier these days and this could certainly confirm this. A Kingfisher on the stream that traverses the Golf course was an added bonus.
At Dovestones there was still a flock of up to thirty Crossbills feeding in the plantation. They seem to be feeding on the Scots pine cones now which have ripened later than the Larch cones what they were feeding on in June.