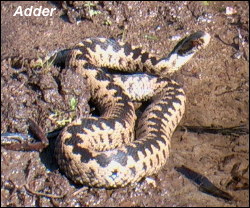 At long last five beautiful, calm, warm days to bring Summer to a close.
In the garden there are now Peacock, Red Admiral, Small Tortoiseshell and Speckled Wood butterflies flitting about from flower to flower.
A visit to the Hodder Valley produced Kingfisher, Goosander and many charms of Goldfinches feeding on the ripening hedgerow seeds in particular the Meadow Sweet. The crops of berries this year are exceptional especially those of the Blackthorn with sloes all over the place. Pity I don't make sloe gin!
During the week I filmed , at a local school, a nest full of young Swallows being fed. It wont be long now before they commence the long journey to South Africa.
A visit to a sheltered valley to the North of Manchester produced not one but two male Adders – the latest I have ever seen a local Adder.
On the local Golf Course Bullfinches are still numerous and along with many passerines have had a good breeding season. A Willow Tit that was calling is probably the one from our garden that I have not seen for a fortnight.