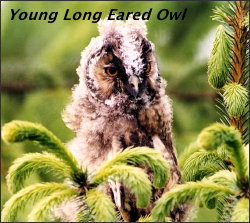 Two very wet days this week have curtailed some filming activities but there are still plenty of challenges around if you are prepared to put time in.
A moorland plantation near Burnley provided fledged young Long Eared Owls which is a nice plus after those near Oldham have been taken. I would urge anyone reading this blog to keep a sharp look out for anyone with young Owls in captivity. Remember all captive birds must have rings on their legs that are registered with the authorities. To put it simply any without rings are held illegally and police should be informed.
I spent two sessions filming young Kestrels being fed in a hole in the gable end of a rest home near Burnley. Three and a half hours on the 21st produced a feed every half an hour but none of the prey could be identified as it was passed to the young quickly and with their backs to the camera.
A gale blowing today, twenty seconded, produced some wonderful views of Crossbills at Dovestones. Whilst the moving branches were a major problem at least it made the birds feed lower down and gave bigger images.