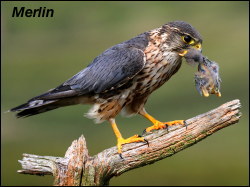 One of the pleasures of a lifetime in bird photography is the privilege of being granted a licence to film illusive species like the Merlin. The male (Jack) Merlin is one of the ultimate challenges and last week I spent more than twelve hours in my hide high on the Pennine moors in temperatures of more than twenty five degrees to fulfill this challenge. Unfortunately my Jack Merlin would not land where I wanted him to so this weeks photo is from last year!
Most of the Pennine Kestrels now have young at various stages of fledging. I have found three nests to date and I am now ready to spend more time in hot hides awaiting the visits of the adults with prey. At least with Kestrels you never know what prey is going to be brought in next.
It has been pleasing to see Little Ringed Plovers with young around the edge of one moorland reservoir. Ring Ouzels are now considering whether or not to lay a second clutch of eggs.
Even though we have had some hot, sunny weather this week we have yet to see good numbers of butterflies.