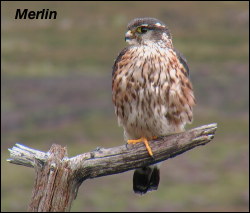 Thirty three hours,. Yes that is how long it has taken, sat in my hide over the last two weeks, before I finally obtained any film of the male Merlin. What a performance he put in by bringing three items of prey to the branch and because the female was not present he had to pluck the feathers off the prey himself and then, which is an exception, feed the young himself. The next day the female Merlin was back at the site and the male was impossible to film once again!
The big news from the garden has been the re-appearance of the Willow Tit, feeding on several days. Has it bred locally?
On Hopwood a pair of Oyster Catchers have been present and both Whitethroat and Bullfinches are still rearing second broods.