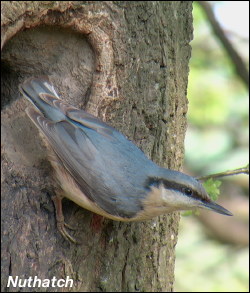 As promised last week this week's photo is of a Nuthatch leaving its nesting hole, which last year was a Green Woodpecker's nesting hole. Nuthatches use mud to reduce the hole to their size as can be seen in the photo.
We have just had a week on Islay with plenty of sunshine and no rain. Short Eared Owls had four young in a nest in the heather and the male provided me with some good film as he returned to the nest carrying voles.
One morning we saw six different male Hen Harriers hunting but finding the females on their nests involves a great deal of time watching for a food pass.
There were still Sanderling migrating North and with the ash cloud over Iceland now gone they should have a clear flight to Greenland.
A large female Adder was found basking in the sunshine and proved to be very aggressive and noisy with much hissing. I kept well out of its reach!
Following on from the severe Winter most flowers are still two weeks later appearing than normal.