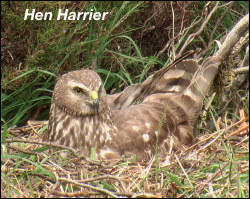 A week on Islay filming Hen Harriers is about as good as it can get in Britain from a wildlife point of view. When you spend hours in a hide looking directly at a female hen Harrier relaxed on her nest you realise what a magnificent raptor she is and what a privilege it is to be licensed to do this. Long may it continue.
One evening we had a fabulous encounter with a Corncrake that would not stop calling and showed up very well. In the dry weather Skylarks have been dust bathing along the roads and providing some good film.
One day we encountered a party of Turnstones that looked really impressive in their Summer plumage.
During our travels around Islay we have had good views of Golden Eagles, Short Eared Owls, Little Terns and Black Guillemots. Butterflies and dragonflies are now in abundance on the sunny days. With Islay's orchids now appearing in profusion.