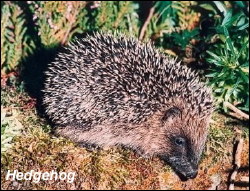 With the first frosts of Winter this week the local Hedgehogs are now finding places to hibernate. Piles of logs are one of their favourites.
On Hopwood a good view of a Roe Deer was had in the white frost on both the twelfth and the fourteenth. During the morning of the fourteenth five flocks of Redwings flew overhead totalling more the two hundred and sixty birds but still no Fieldfares locally The first Woodcock was flushed on the twelfth of October , which is about normal for their arrival from Scandinavia.
During the afternoon of the thirteenth I was in the Roaches on the North Staffordshire moors, There was a passage of forty Meadow Pipits, four Kestrels were seen separately and two Wheatears were still present on a gravel path at dusk. A peacock butterfly was seen and a great pink sunset followed but no migrant thrushes were encountered.
The highlight in the garden was a record ten Collared Doves on the fourteenth but sadly the male Sparrowhawk returned on the fifteenth and caught prey. I suppose he has to live as well!