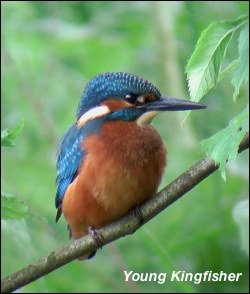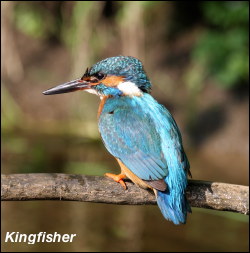 It all comes to he who waits. Well in this case eight mornings sat in a stream for four hours at a time finally came good when four young Kingfishers decided it was time to fly the tunnel. For the second time in my filming career I witnessed the young flying straight out of the tunnel and landing on the nearest over hanging branch. In the photos above the young is the one with the black legs. Plumage wise they are immaculate in their brand new feathers, which is surprising when young consider they have just spent twenty four days in a smelly nest chamber covered in fish bones! It is four years since I filmed Kingfishers at the nest but I have not forgotten what a delight it was to be in their presence for more than thirty hours in the most perfect conditions you could imagine, with peace and quiet along a Pennine stream and no human disturbance
During the week more time has been spent on the Little Owls with good film obtained of the young fledging – photo next week. A new Little Owls's nest has been found and there is still another male who to date, has given nothing away as to where his female is.
On the fourth a quick walk at Ogden produced good sightings of Goldcrest and Blackcap but better still two Crossbills were in the pines feeding. Is there going to be an eruption this Summer? Time will tell.