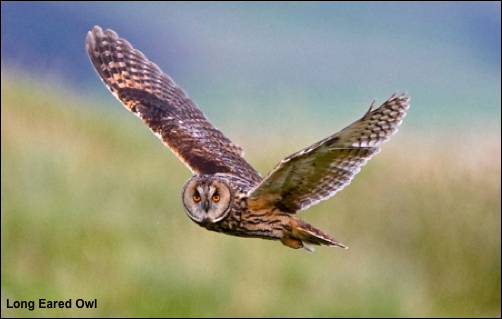 After a lifetime of visits into the Pennines in search of wildlife to film I have lost track of the number of evenings when you return home having seen and filmed nothing. If you are lucky you might flush a Meadow Pipit from a nest or perhaps encounter a Twite. However, nothing prepared me for one night last week when I returned home with film of three species of Owl.
Initially I set out to check a plantation for Long Eared Owls. Before I arrived at the plantation I passed a ruined barn and spotted four young Little Owls on the roof ready to fledge! After filming these I reached the plantation and found a male Long Eared Owl hunting the moorland edge. Calls from the forest gave away three young Owls and it was up to the male to satisfy their hunger. To me there is no more spectacular Pennine raptor than a hunting male Long Eared Owl. He did not disappoint and provided me with the best photos I have ever had of this illusive Owl. Click here for the photos
It was 10.00pm as I made my way back home on a winding country road. As I rounded a corner a richly marked Tawny Owl was on a drystone wall looking for prey. I upped the ISO on my camera to 4000 and took a few photos of my third Owl species of the night – How can I possibly beat that? Next weeks gallery will be devoted entirely to the Little Owls.