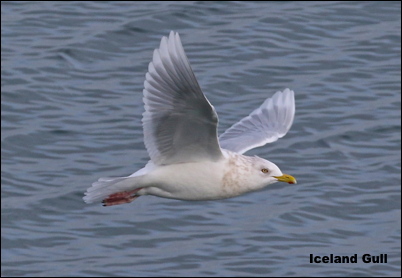 Fifty years ago I visited Iceland for the first time and it made such an impression on me that it seemed the appropriate place to visit to celebrate my 70th birthday last week-end. We were treated to blizzards, gale force winds but no Northern Lights even so it was a delight to see it in Winter.
I expected that the harbour in Reykjavik would be full of Arctic gulls and while we only saw two Glaucous Gulls there were on some days more than a hundred Iceland Gulls present. Also present in good numbers were Eider Ducks, Long Tailed Ducks, Black Guillemots, Fulmars and even Blue-phase Fulmars.
The lakes in Reykjavik were mainly frozen except for one geothermal heated corner which had 50 Whooper Swans that had stayed in Iceland rather than flying to Britain in Autumn. Surprisingly these included a pair with their four young who may never know how to migrate!
A full day Golden Circle tour showed us Pingvellir, Stroker and Gullfoss waterfall all in deep snow and ice. It was dramatic scenery but the only birds seen were thirty plus Redpolls feeding in the warmth of a geothermal spring. Click here