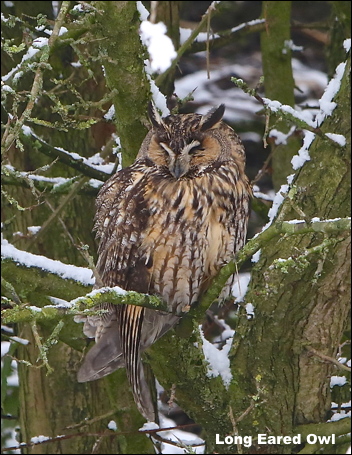 In the last week I have spent many hours out in the hills looking for roosting Long Eared Owls and day hunting Barn Owls. After yesterdays snowfall a single Long Eared Owl was a nice bonus in the snow-covered trees. With their eyes screwed-up they always look asleep but this bird is fully aware of my presence.
So far the hunting Barn Owls have failed to fly where I wanted them to or perch in the right place. However, whilst I have been hidden under my camouflage cloth I have obtained photos of a number of other birds who had no idea I was present. These are included in this weeks gallery and even include Pink Footed Geese at dawn that flew high over my head.Click here
This last week I have shown my films for the last time in Rochdale, Glossop and Leigh to societies where I have been going to for more than forty years. The responses from the audiences have been over whelming and at Leigh included a vote of thanks that lasted sixteen minutes!!