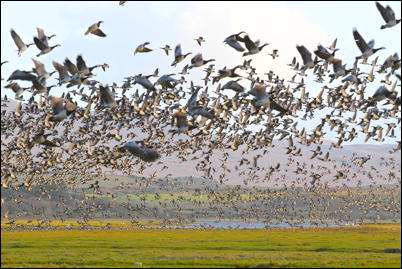 There is little doubt that one of the greatest bird spectacles in Europe in Autumn is watching thousands of Barnacle Geese coming to roost on the sea-lochs of Islay at the end of the day. As they descend to their own chosen spot on the estuary the noise is deafening. With them will be their young of the year having been guided by them from their breeding grounds in north-east Greenland. All these Barnacle Geese are joined on their journey from Iceland by thousands of Whooper Swans who may be spending winter at places like Martin Mere near Southport.
This last week we have been on Islay watching this migration spectacle which also includes hundreds of thousands of Redwings. On the 25th the village of Portnahaven on Islay's south-west coast had a massive "fall" of Redwings with every garden occupied by birds that had just fallen out of the sky. Within a day these birds had moved on and may soon be in a garden near you.
Geese and Swans comprise the blog and gallery this week which includes our Cocker Spaniel Rusty who had a ball of a time on Islay's beaches.
click here. More photos next week of a truly special place.