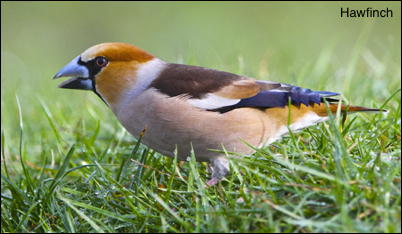 Every autumn is different in the amount of fruit produced by our hedgerow trees and with the exception of one or two tree species this years crop is quite poor. The main exception has been the hazel which has produced a very heavy crop of hazel nuts which should keep our Squirrels happy. The fruit of one particular tree, the Hornbeam, is eaten almost exclusively by one of our most illusive birds the Hawfinch. With their incredible bills they are the only bird species able to reach the kernels. This weeks gallery includes photos of male and female Hawfinches feeding on the ground taken a couple of years ago. Sadly it has recently been proved that most hawfinch nests are predated by Jays and as a result there are less than a thousand pairs left in Britain so these photos may be the last I ever take of an incredible bird species. Click here
With the recent east winds Redwings are now arriving in good numbers with my biggest flock so far being fifteen. Other birds are on the move with a female Stonechat present along a local hedgerow on the 17th.
In the garden the House Sparrows have peaked at seventeen with eight Long Tailed Tits moving through on the 16th. So far this month no Bullfinches have fed in the garden so hopefully they are still in the woods eating all those blackberries .