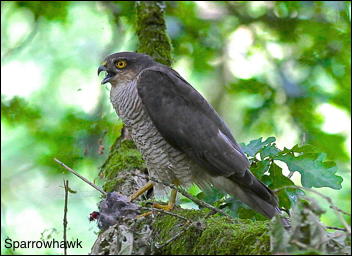 This week's photo is of a male Sparrowhawk with prey before he presents it to the female at the nest. He had caught this bird in our garden and I followed him across into Hopwood woods where his nest was located. Three young have now fledged  and are flying around calling excitedly. Sparrowhawks time their breeding season so that when they need most food there is an abundance of young birds available. Unfortunately that means he hunts our garden regularly to catch the juvenile  Goldfinches, Greenfinches and Sparrows that are now feeding.
Over the years I have filmed many different Sparrowhawks  in the garden and this week's gallery shows some of them . Click here
The star garden bird of the week was a female Blackcap feeding on the honeysuckle berries.
The big event of the weekend has been the Birdwatchers Fair at Rutland Water. One day is now not long enough to see everything and I would recommend it to everyone who has never been to go next August when it returns.