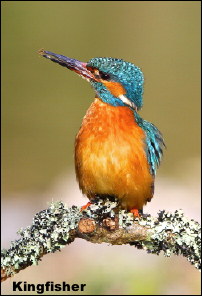 During the last two weeks most Kingfisher pairs have been busy digging out their nesting tunnels. This weeks gallery photos (Click here) were taken last week of one of my regular pairs engaged in the digging process. Unfortunately events have overtaken them when last Tuesday  Rochdale was the wettest place in Britain with more than one and a half inches of rain. The result was the flooding of the Kingfishers nesting hole and the early failure of this first breeding attempt of the year. Lets hope that this is not repeated in the ensuing months.
A visit to the hills during the week found Long Eared Owls back in their breeding sites and a Green Woodpecker digging out a new hole in an Oak tree. I am always amazed that any bird can dig out a hole in a living Oak tree. There are now more Chiff Chaffs singing in the woods and along the Ribble I saw my first Sand Martins of the year. The general feeling so far is that it is going to be a late breeding season.
In the garden we had a record six Wood Pigeons together on the 2nd.