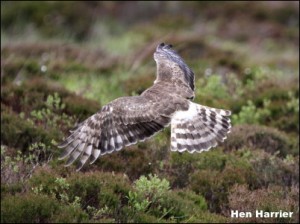 Ringtail is the name given to a female Hen Harrier or a juvenile in its first winter when it is difficult to tell the sexes apart. The name comes from the white rump and is clearly visible as shown in this weeks photo. There is no doubt that any sightings of a Hen Harrier make a day out in the hills most memorable and I have included some of this years photos taken on Islay in this weeks gallery. Click Here
The event of the week was the reappearance in the garden of the Willow Tit after an absence of nearly two years. It appeared on the 23rd November and has fed most days since then. A Grey Wagtail fed on the lawn on the 29th and most days we now have twenty or more species feeding.
November is always the dullest month of the year and this November has followed that trend. The result is that the camera has been on the shelf far too much as there is no substitute for the sun.