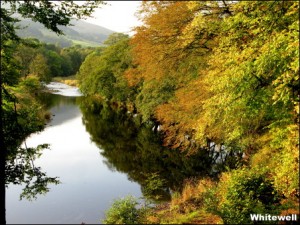 The colours of Autumn are shown no better than in the river systems of the Pennines and my favourite place is Whitewell in the Forest of Bowland. This weeks photo is one I take every year but never tire of the perfect setting and colours.
Migration is now well underway with the first garden Goldcrest appearing on the 7th October. Three days earlier a Redwing passed over as more Skylarks were on the move. In contrast eight House Martins were still present locally and left with the last of the warm weather.
The numbers of Salmon entering British rivers this year is extremely low and this was borne out by my visit to the river Ribble at Settle on the 10th. Not one was seen,  it would have been a wasted journey  but for a fly past of a Kingfisher.
Local foxes are now becoming more nocturnal as the woodland cover begins to die away. Only their droppings indicate an overnight presence. Click here