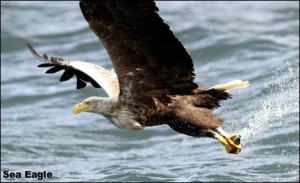 For more than twenty years I have heard about White Tailed Sea Eagles following fishing boats in Skye and Mull to scavenge fish thrown from the boats. Last week I finally visited Mull to film this incredible spectacle of the world's fourth largest eagle taking fish thrown from specially licensed boats. As the boat sails into the vicinity of the eagle's eyrie  the adults recognise it and fly high above to await a fish being thrown out. Then, with a rapid turn of speed, the eagle dives down and removes the fish from the surface of the sea with as little impact on the water as possible. This method of taking  the fish is in contrast to an Osprey that plunges completely into the water then lifts off with its prey. To see these enormous birds carrying out this manoeuvre is something never to be forgotten and whilst the weather could have been better I did manage several sailings and lots of photos. Click here.
It was only my second visit to Mull but where else in Britain is it possible to see six different Sea Eagles and three different Golden Eagles in one day.
See next week's blog for more news of my visit to Mull.