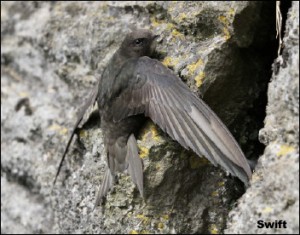 You can only really say that Summer has arrived when the Swifts are screaming through the picturesque Pennine villages, as they were in last weekend's glorious weather. Most will nest under the eaves of the cottages. Some may breed in the crevices of quarries and in Scandinavia many now nest in the disused holes of Woodpeckers, something that has not yet caught on in Britain.
During the past week I spent an hour with a pair of Willow Warblers that were busy nest building and as usual they were very tame. Click here. Along the canal ten pairs of Canada Geese were nesting with two female geese looking after a creche of thirty one goslings!!
As a professional wildlife photographer I should know that you never go out without your camera and that was more than emphasised last weekend when I didn't take mine in all that glorious sunshine. I drove up onto the moors and by the roadside were a pair of Curlew with four newly hatched young> Around the next corner was a Snipe on a post and further down the road a Little Owl was looking at me and I am sure it was laughing!!