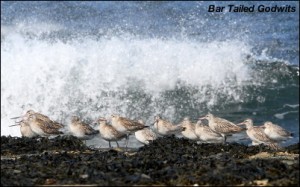 A visit to Islay is always good but especially so in late April when hundreds of wading birds are on the move. This week's photo illustrates the spectacular setting as Bar Tailed Godwits get ready to migrate to the high Arctic against the backdrop of Islay's pounding surf. They were new birds for me as I have never managed to obtain film of Bar Tailed Godwits on either cine, video or still as they are always very flighty birds.
During the week there has been a massive movement of Golden Plover with flocks of up to four hundred or more all bound for Iceland. Whimbrel are now beginning to arrive with groups of up to forty present and constantly on the move.
The weather this week has been fantastic with good periods of sunshine, although always with a cool Easterly wind. It has been a pleasure to watch displaying Hen Harriers a bird that may have disappeared as a breeding species in England. There are not many place in Britain where you can see more Golden Eagles than Kestrels but Islay is one of them.
It continues to be an early breeding season on Islay with Cuckoos calling in many localities and the first two Corncrakes having just arrived. Click here for some of this weeks photos.