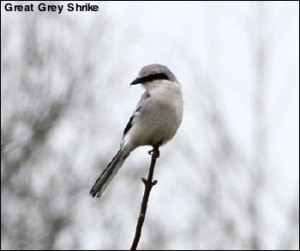 In Twitchers terms dipping out means failing to find the bird you set off to see. This happened twice to me on the 9th when I failed to find the Two Barred Crossbill at Dovestones and the Great Grey Shrike at Watergrove reservoir. Fortunately I had already seen both earlier in the week and this week's photo of the Shrike was taken from one hundred meters away and is only a record shot. I did, however, spend an enjoyable hour watching the Shrike catch bees that were attracted to the willows and I think I can now declare that my days of twitching are over!
On the 10th I sat under the camouflage cloth by the hawthorne hedge at the rear of our garden to film whatever appeared in the fresh greenery. I was surprised to find that two Bramblings were present plus all the other garden birds. Click here.
As expected this breeding season is remarkably early with a Barn Owl already incubating eggs on the 29th March, the earliest record I have ever had in more than fifty years of monitoring this species.