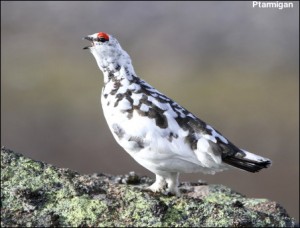 At 10am on the 26th March I stood on the top of Cairngorm one of Britain's highest mountains at more than 4000ft. The views in every direction were spectacular and there was hardly any wind which is a rarity on this mountain as it has recorded Britain's highest wind speed at nearly 200mph. I had of course not come for the view but to film Ptarmigan and I was not disappointed. During my two hours around the summit I encountered more than a dozen individual birds with the males already moulting from their pure white Winter coat. It was extremely icy at this high altitude and on one occasion I slid more than twenty foot still clutching my equipment. With a chip on the lens Cairngorm has now left its permanent mark!
Two days before the successful ascent I tried to walk to the summit from the ski center below but was beaten back by a strong wind that produced white-out conditions. On the way down I encountered Red Grouse and Mountain Hare both of which provided some good photos. Click here The ski center car park had over fifty Snow Buntings feeding on the 24th but all had gone by the 26th.
This Spring has come early in Speyside with several Ospreys already back at their nest sites. Crested Tits were very elusive as most had returned to the deep forests to breed. Even on the coast all the Long Tailed Ducks were out on the sea ready to fly back to their breeding grounds in Scandinavia. There is no doubt that this area is a very special place for the wildlife enthusiast and to have the weather we had was exceptional.