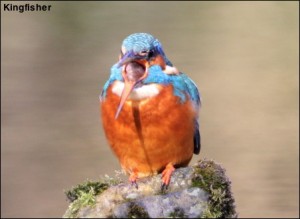 This week's photo is of a Kingfisher regurgitating a fish bone pellet following its last fish supper. It was taken this week as I spent three hours on my birthday sat in my hide in a remote Pennine stream with a pair of Kingfishers digging out their nest chamber, What better birthday present could you wish for than a pair of Kingfishers perching in exactly the right place in full sunshine? My elation was further enhanced as I heard a splash in the next pool and upon checking discovered it was a fishing dog Otter, my first ever sighting on a Pennine stream. The only down side was finding an enormous Mink further down the stream as I left. I understand once an Otter appears on a stream it gets rid of any Mink so let's hope so. Click here
During the week I have spent time in the Pennine forest searching for breeding Long Eared Owls. So far I have failed to find any but pellets under one tree may indicate that migrant owls have been using that forest and have now set off back to Scandinavia.
On the 18th five Adders were enjoying morning sunshine with a Peacock butterfly doing the same on a drystone wall .