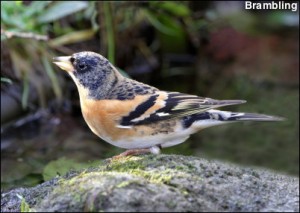 All birds have to drink and bathe on a daily basis to remain in top condition. Whilst engaged in this activity they are vulnerable to predation and so are always wary of a camera and cameraman. During the last few months, having already failed to film Crossbills feeding,I have concentrated on Siskins and Bramblings. With the abundance of water this Winter I have had many blank days but perseverance has paid off. click here
On Hopwood the first frogspawn appeared on the 6th which is two days earlier than last year. A Weasel was seen on the 8th the first sighting for over a year. Scarlet Elf Cup fungi is out in greater profusion than ever this year.
In the garden Siskin, Redpoll and Reed Buntings are feeding in much lower numbers than last year at this time. A Sparrowhawk made a meal of a Collared Dove on the 6th. Buzzards circling high over the house are now a regular occurance.