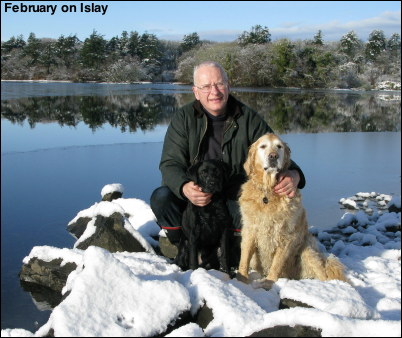 I would like to wish you all a Happy New Year for 2014
After producing forty one hour cine films and five DVDs in the last forty four years you would have thought it was time for a rest in 2013. Well think again, with good weather for most of the year and armed with a Canon 7D camera and appropriate lenses I have just had my busiest year's filming ever. Since I was ten I have maintained a wildlife diary of notable sightings and I have just counted up 326 days of entries during this past year which constitutes a record I don't ever expect to beat.
The year started off with good Barn Owl sightings in North Lancashire and having criticised some photographers for the amount of shots they take I could not believe that in three mornings I had taken more than a thousand! Out of these the fifty I retained were spectacular and it was a species I had always dreamt of filming in flight, so it was a brilliant start to the year.
My lecture tour of South West Scotland in February was a sad end to thirty years of visiting that special area. This being due to the local wildlife groups  having seen all my presentations . I have taken some wonderful film in the area over those years, have met  life long friends and was most humbled by the two large hampers of local food and drink presented to me – I think we have just finished the last of it!!
We had our usual fortnight on Islay in February when the island is free of tourists and the snowdrops are at their best. The bonus was a fantastic series of flight shots of Chough that will take some beating on future visits.
Most people are aware that the Waxwing is my favourite bird so what a treat to be still taking photos of them well into April before they finally left us in early May.
As we are now all aware the Summer was one of the best ever and provided me with more photographic opportunities both on Islay and back home in the Pennines. During late Summer and Autumn I made several visits to Morecambe Bay and Leighton Moss and took great delight in filming Curlew Sandpiper, Spotted Redshank and Bearded Tits all birds I had never filmed before.
The latter part of the year has been typified by a big influx of Redwings, Fieldfares and Bramblings. As a result I have spent many days searching the local hedgerows and obtained some delightful shots.
To view some of my favourite photos of the year please click here.
All five DVDs are still selling well with the Islay one on its sixth reprint. I am showing my cine films at many different venues with this coming March the busiest I have ever been in more than forty years.
Next year's challenge is Marsh Harrier and Bittern!