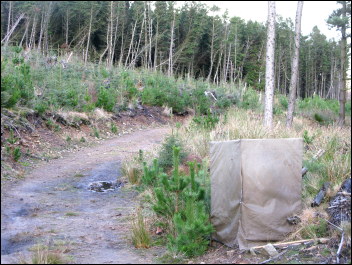 An unusual photo this week of my hide along a forest path and just in front of it is a puddle of water. During the week I spent a boring three hours in the hide staring through the camera at the puddle which remained absolutely bird less . Not one bird came to drink during my long stay whereas four days before eight red male Crossbills dropped down to drink for one minute only. My friend obtained some magical photos of the event and it just goes to show that in the wildlife world there are no repeat performances!!
On the eleventh thirty Redwings alighted in a tree forty yards from the garden but none were tempted by the apples I had put out – too many berries still around. The gorse planted on Hopwood not only attracted breeding Linnets this Summer it is now being used for a roost site for Redwings. All we need now is the return of the Partridges that sadly disappeared some ten years ago.
Rowans on a nearby industrial estate have attracted Bullfinches to their ripening berries. Up to six have fed and in a short period of decent light I managed some photos. Click here.