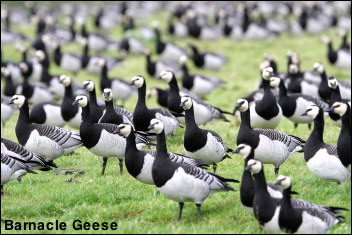 Islay in October is always wild but this years weather was in the extreme. Gales and torrential rain prevailed and our walks had to be undertaken in-between the showers,  with fingers crossed. Despite this the spectacle of 50000 Barnacle Geese on one Hebridean island is not to be missed and regarded by many as the finest bird spectacle in Europe at this time of the year. In addition during October Whooper Swans migrate South from Iceland through Islay and to be stood on the North coast of Islay as these swans appear, having flown 500miles non stop from Iceland, is quite special. Click here for photos of  our Islay visit.
Any visitor to Islay cannot fail to be impressed with its raptors and whilst most are reluctant to fly in the wind and rain we had sightings of most of them with the exception of Kestrel!  Merlin and  Hen Harriers are seen daily and you never know what is around the next corner be it a Golden Eagle or a Sea Eagle.
With spectacular seas and low tides  conditions were not ideal for finding Otters and we encountered only one which in true Otter fashion disappeared after only a few minutes.