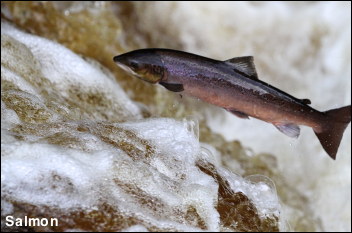 I have never gone looking for Salmon before but after a day of heavy rain on the 23rd there followed a superb Autumn day on the 24th so I knew that if Salmon were going to come up the Ribble they would be in the right position to jump the falls at Settle that day. It worked perfectly and during the two hours I was present I reckon at least twenty Salmon tried to leap the falls but only eight succeeded in reaching the next level. Unfortunately never having taken the camera before I did not realise how close the falls would be and my 300mm lens was too big giving me some wonderful shots of Salmon with no head or tail on! Even after forty three years you never stop learning.
During the week we had a short walk at Ogden and had good views of Little Owl and fourteen Goosander. Click here for gallery I still have not had any sightings of Fieldfare.
The number of birds feeding in the garden has been increasing all week and peaked at ten House Sparrows, fourteen Goldfinches and twelve Greenfinches.