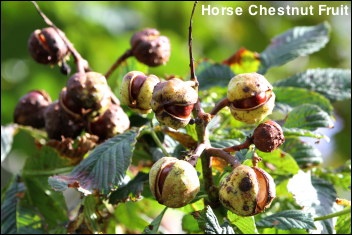 Today's cold North East winds have probably brought to an end one of the finest late Summer and Autumn periods that we have ever had. Everywhere you look there is an abundance of fruit and I couldn't resist this week's photo showing the Horse Chestnuts cracking open to reveal every school boy's dream,  the conkers.
On Hopwood the blackberry crop has been exceptional with many Comma butterflies settling on the fruits. Once the wings of the Comma have been close it is remarkably camouflaged and the ' comma' mark which gives it its name is clearly visible. Click here. During the week I have also seen several Small Tortoiseshell, Red Admiral. Peacock, Large White and Speckled Wood butterflies, all of which have had their best season for years. Also on Hopwood Marsh Cinquefoil has had a great flowering season and just recently the Autumn Crocus is showing well.
On the 10th, which was the sunniest day of the week, I spent three hours at Leighton Moss awaiting Bearded Tits coming to take grit from trays positioned in the reeds. At this time of the year they change their diet from invertebrates to seeds and to enable digestion of the seeds they have to ingest grit. Apparently they were very active early last week but I spent a very cold time waiting and they failed to arrive. Whilst waiting I did see my first Whooper Swans of Autumn as four flew over the reserve but they were no consolation for three hours stood around at only 6°C!
The star bird of the garden this week has been a female Great Spotted Woodpecker that has had two lengthy visits.