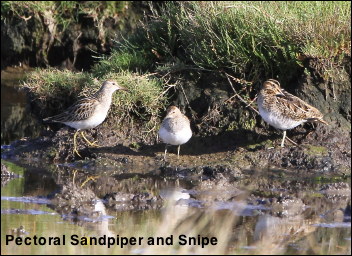 Another visit to Morecambe Bay on the fourteenth produced this week's distant view of not only one but two Pectoral Sandpipers as they fed happily next to a Snipe. The wader passage this Autumn has been exceptional and in addition to the Sandpipers there were still seven Greenshank, three Spotted Redshanks, four Curlew Sandpipers and a Green Sandpiper feeding in the Autumn sunshine, Butterflies had also continued to enjoy the sun with Small Copper,Wall and Brimstone all active. Click here.
On the local moors family parties of Stonechats are on the move with Whinchats now beginning to head South. A Redstart was also present and Grey Wagtails were moving out of the valleys. The Adder site still had five Adders enjoying the Autumn sunshine.
Whilst in the garden on the ninth I heard the alarm calls from the House Martins overhead and looking up was amazed to see a hunting Hobby. On Hopwood the planting of gorse has resulted in three pairs of Linnets breeding successfully for the first time. This morning along the canal a Kingfisher was present.