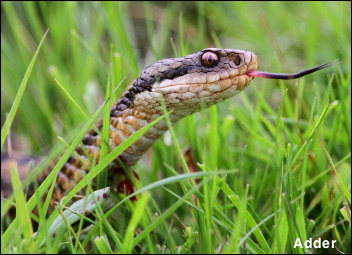 With warm sunny weather during the week I visited my Pennine Adder site and was surprised to find seven Adders in the area. Better still one was actively hunting with its body raised off the ground showing the orange rings which I have never seen before. I finally obtained the shot I was after with its fang fully extended and well away from me!
I paid a visit to Pennington flash one day and was able to film a late pair of Great Crested Grebes that still had eggs and one newly hatched young. Stock Doves were feeding on seeds on the marsh with Common Sandpipers already moving South on migration. Click here for this weeks photos
In the garden the Wood Pigeons have now increased to five and the Greenfinches to eleven made up of mainly young birds , another indicator of a good breeding season.