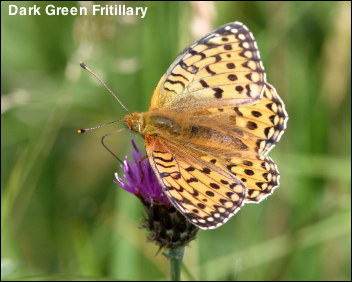 The big bonus from the July sunshine and warmth has been the emergence of vast numbers of butterflies. In a two hundred yard stretch of thistles by the local canal I counted sixty eight Small Tortoiseshell butterflies and this after receiving the Butterfly Conservation Newsletter which stated that they were in a 77% decline this year! A day out at Silverdale produced several Dark Green Fritillaries one of our most impressive Summer butterflies. On another day the flowers around a Pennine reservoir were full of Common Blue butterflies. Click here to see these and others filmed during the last few weeks.
Overnight on the 28th July more than two inches of rain fell. This deluge has wiped out the late breeding attempts of Stonechat, Whitethroat and Grasshopper Warbler.
In the garden we have had a Willow Warbler and on two days a welcome return of the Nuthatch.