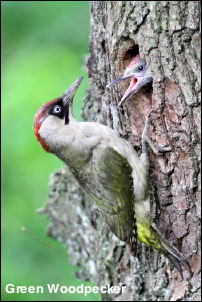 After forty three years of filming birds this week I was able to film only my seventh pair of Green Woodpeckers with young. It was in fact twenty five years before I found a suitable nest site for filming so it is always a privilege to spend time with these beautiful birds. The main food source for the young are the eggs of ants. It takes some time to find these so feeds are at thirty to forty minute intervals. However, because the adults carry them in their crop when they feed their young they are at the hole for more than a minute on each visit. Click here to see more photos of the Green Woodpecker including one with ant eggs visible on its bill. The male Green Woodpecker is the one with the crimson moustache.
During the week I went in search of a Sparrowhawk that was reported as breeding along the Rochdale canal I failed to find the Sparrowhawk but did see a Kingfisher which is unusual at the height of the breeding season. Was this Kingfisher breeding in a bank nearby?
In the garden we now have fledged Goldfinches, Robins and Redpolls. It is only the Reed Buntings and Bullfinches that have yet to bring their young to feed. A Willow Warbler was a welcome addition one day as it searched for aphids in the fresh greenery.