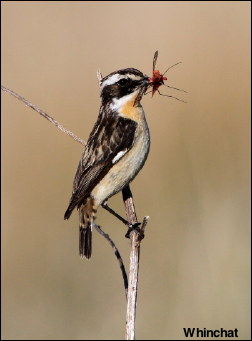 Since returning from Islay all week has been spent checking nest sites and searching for new nests. It has become apparent that the Whinchat has now disappeared from many of its Pennine haunts for no obvious reason. In fact I have not seen a local Whinchat all season. This weeks photo and gallery album (click here) were all taken on Islay last week where the Whinchat is still quite common.
What is also apparent this year is that many of the Pennine raptors have not bred or have failed in the early stages of breeding. At present I have no occupied Barn Owl or Kestrel sites and my one breeding pair of Long Eared Owls failed while I was on Islay. The others not even attempting to breed. I suspect last years wet weather coupled with this years cold Spring left the birds in poor breeding condition.
On the plus side the Kingfisher succeeded in fledging its first brood of young and I now have my first ever local breeding pair of Buzzards, which now have small young. A pair of Linnets have taken advantage of the planting of gorse on Hopwood by building their nest. Let's hope that these will be followed by the return of Partridges. On the down side there are no breeding Sand Martins or Green Woodpeckers this year.