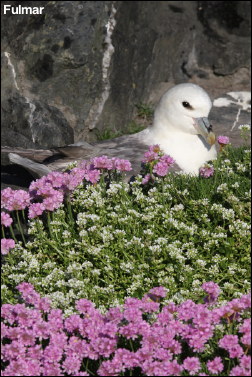 Our third week on Islay and no visit to the Hebrides is complete without filming some of its seabirds. During the week I checked out some of the regular sites for Fulmars knowing those amongst the Sea Thrift would look even better this year in view of the lateness of the flowers. I was not disappointed and some incubating birds looked stunning surrounded by the pink thrift. A tern colony produced good numbers of both Arctic and Little Terns but as usual disturbance from wandering sheep was critical. Nearby was a post breeding flock of more than two hundred drake Eider ducks, at least a hundred of which are shown in this week's gallery.
Black Guillemots are not common birds on Islay but one morning I spent a couple of hours by a distillery pier filming half a dozen as they interacted on the sea. In a wet meadow nearby Snipe were finding some good feeding in the damp conditions.
Three weeks on Islay and only one day of rain with plenty of sunshine prevailing. One of Scotland's rarest butterflies is the Marsh Fritillery and the warm conditions and sun produced a good emergence of this butterfly making this year a good one for them.
Click here for this week's photo gallery