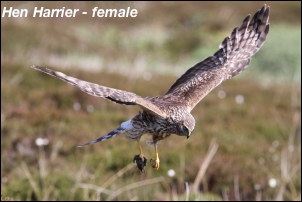 In the last seven days Islay has been the sunniest place in Britain on two days and we have had well over one hundred hours of sunshine. During this visit I have been concentrating on Hen Harriers and having spent seventeen hours in my hide, with temperatures of up to 23°C it has been somewhat hot!
This week's gallery shows a warm misty dawn and some of the other Islay birds that we have encountered in our daily wildlife watching. These include Hooded Crow, Twite, Buzzard, Oyster Catcher and three Chough that flew over my head whilst I was watching the Harriers.
One night we watched an Otter fishing but not close enough to photograph. We estimate the plant life on Islay now two – three weeks later than normal.
Please Click here to view photos.