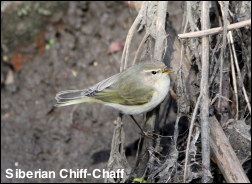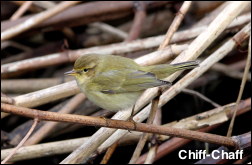 I finally took some decent photos of the Chiff-Chaffs along Wince Brook in Middleton this week with the Siberian race clearly much lighter and with a pronounced eye stripe. Both birds were photographed only five minutes apart and there are at least four normal Chiff-Chaffs present along this semi polluted brook. Everyone who sees them is amazed at their concentration to this one small area, the attraction being tiny flies still present in the mass of rotting vegetation overhanging the brook.
During the week I filmed one hundred and twenty Waxwings in Stockport on the 6th and saw a flock of fifteen in Middleton on the 9th, ironically less than eight hundred meters from where the Chiff-Chaffs were feeding. If the Waxwings can find berries perhaps they will hang on locally until late March. On the canal on the fifth were six male and one female Goosanders, now able to feed following the melting of ice cover.
The male Sparrowhawk has caught twice in the garden this week. I rescued a Starling that he was trying to drown in a pool of water by the lawn and he came back three times trying to find it! The male Blackcap has now disappeared and may have been his other victim – let's hope not.