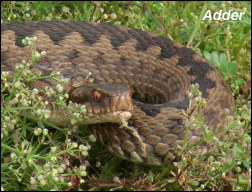 With sunny and warm weather I took the opportunity to visit my Adder site during the week and was well rewarded. Three Adders were enjoying the warmth, together with a very small young one. Unfortunately Buzzards have recently been seen in the area so their future will be in the balance.
One day I set off to continue my search for breeding Hobbies but never got there. As I parked my car I noticed that a pool in the road had Goldfinches, Linnets, Greenfinches and even Siskins coming to drink. When filming wildlife you have to take every opportunity to film whenever it presents itself. I spent several hours filming from the car and ended up with some good shots of male Linnets bringing their young to drink. A totally unplanned event and the search for the Hobby would have to wait.
In the garden we are being visited by at least three Grey Squirrels which are destroying the feeders at an alarming rate. We have never had that many Squirrels in the garden in over forty years.