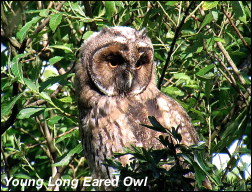 This is the only fledged Long Eared Owl I have seen this year . I spent a magical hour with this bird and eventually it was so used to me that I was able to film it from only twelve feet away as it rested and preened. I went back to it a week later but then it was so wild that it flew when I was thirty feet away!
It always amazes me that whilst you are filming birds circumstances can change without warning. I have recently been filming Barn Owls, under licence, with the male providing me with some good film as he brought prey to the the breeding site, in a barn, well before eight o'clock. There was good evening light and he looked superb as he appeared carrying prey to the young and the female who were in the nest site in an disused water tank. After several weeks the female decided that the young were old enough for her to leave them in the tank during the day. At first I thought that my filming opportunities would now be even better with both adult birds being able to bring food to their three young. This might have been the case but I was not ready for the fact that they did not bring prey until after ten o'clock when there was no light to film. So in one fell swoop my filming was over!
On Hopwood on the fourth there was a steady stream of Curlews moving in a South West direction. Their breeding season is now over and I wonder how successful it has been with all the months of rain. The Birch woods of Hopwood should now be full of young tits but apart from the odd Song Thrush still singing all is silent. It is going to take a long time before its wildlife recovers from this year's appalling weather.