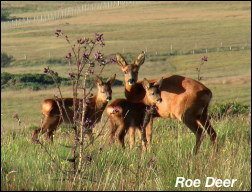 The photo this week is of a Roe Deer with her fawns filmed on Islay during our recent visit.
During a busy week back home I have now checked all ten of my Little Owl pairs with only two managing to rear young this year. It is probably no coincidence that both these pairs breed in ruin buildings where they would have had more protection from the heavy rains. As I searched the hills I have come across only one fledged Long Eared Owl, (see next week's photo) Clearly for them it has been a disastrous season.
The good news of the week is that my regular pair of Kingfishers have now commenced to incubate another clutch of eggs. This year they had their first breeding attempt in March and those young were predated by Mink. Two more attempts failed in the floods so I hope that they can finally produce young. Unfortunately all attempts have been in the same tunnel so they need some stable water levels during the next six weeks and no Mink to be successful.
On Hopwood it was pleasing to watch a juvenile Green Woodpecker, from the nest I filmed in June, searching for ants. Only eight hundred metres away the fledged Sparrowhawks were also doing well on prey that the male is still catching in our garden. I certainly do not approve of his food source!