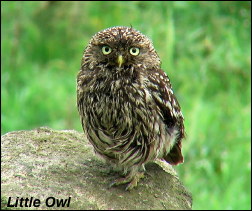 As mentioned in the previous post here is the photo of a rather wet male Little Owl.
We have just returned from six days on Islay and as usual it always provides amazing wildlife events even though it is not always possible to capture them on film. One of the highlights has to be watching a male Razorbill feed and escort his single young from its nesting gully and out to the open sea in the direction of Ireland. They will both spend the next six weeks on the open ocean until the young is independent.
Another unique site was turning a corner on a quiet road and coming face to face with two recently fledged Peregrines that were drinking from a roadside pool. They stayed long enough for us to admire them through the binoculars, whilst sat in the car, less than twenty feet away. It was truly a once in a lifetime encounter. As if that was not enough several hours later we sat in the car along Gruinart and watched an Osprey make several attempts at catching fish less than fifty yards away.
One reason for going to Islay in late July was to see the fledged birds and the late flowering flowers. Two young Cuckoos were encountered plus several recently fledged Hen Harriers with their dark brown plumage. In the sand dunes there were carpets of flowers including Pyramidal and Frog Orchids plus at least thirty Marsh Helleborines which are one of Islay's rarest flowers.